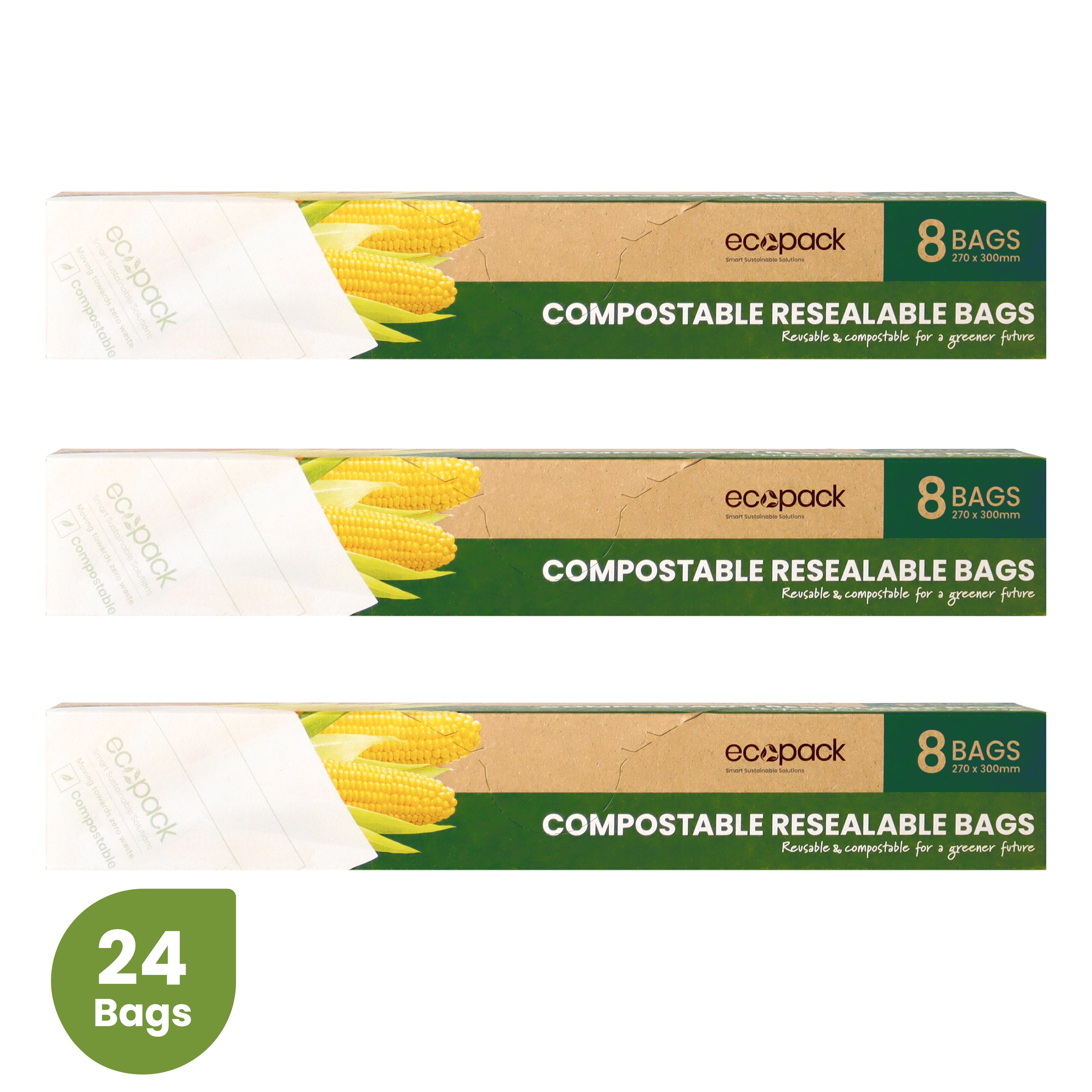 Ecopack Compostable Resealable Storage Bags set ( 3 x 8 ) -24 Bags
Save

Liquid error (snippets/product-badge line 37): Computation results in '-Infinity'

%
These new biodegradable resealable storage bags are suitable for storing leftovers or bakery goods, packing pantry staples, portioning or marinating meat, and packing lunches. Seal in freshness and protect from freezer burn.
This set offers 3 boxes of home compostable  resealable storage bags. Each dispenser box has 8 bags(Total of 24 bags in a set)
Size: 270mm(w) x 300mm(h)
Quantity per pack: 8 resealable bags
Product Specs
FAQs
Shipping, Returns & Rural Charges
These biodegradable storage bags contain GMO-free corn starch, PLA and PBAT. The material they're made from is certified for home and commercial composting. You can wipe them out and reuse them (but please don't do this if they've been used to store meat). Once finished with, the whole bag can be put in a compost bin (the thicker zip will take a little longer to decompose).

The resealable zip lock makes them easy to open and close and ensures your food is locked inside. They are food and freezer safe but not recommended for microwave.

Raw material certified to:
✓ Australasian Bioplastics Association Seedling Compostable Bioplastics Standard AS4736-2006 (ABAM 10133)

Size: 270mm(w) x 300mm(h)
Bags per box: 8
Boxes in a carton: 12
Total bags in carton: 96

What are the compostable bags made with?
Our compostable range is manufactured from corn starch bio-resins, PLA and PBAT. This new compostable material is designed to degrade in moist conditions and return to carbon dioxide and water without leaving harmful residues in the process. Our compostable products are all certified to strict international standards and we go so far as to use non-toxic inks in the printing on these products.
How long do they take to compost?
Compostable bags will take approximately 90-180 days to decompose depending on the composting environment. Industrial composting is typically quicker than home composting for two main reasons:
1) temperatures reached inside a home composting bin is usually only a few centigrade degrees higher than the outside temperature, and this is true for short time periods (in industrial composting, the temperatures reach 50°C – with peaks of 60-70°C – for a number of months).
2) home composting bins are managed by everyday people and the composting conditions might not always be ideal (in contrast, industrial composting plants are managed by qualified personnel and kept under ideal working conditions).
How do I use my compostable resealable bags?
This new material is slightly different to the traditional plastic you may have used to carry your sandwiches in the past. It is designed to break down! To avoid disappointment, please avoid excessive moisture, avoid sharp objects, and store them in a cool dry place (avoid temperatures over 19 degrees celsius). Wash and wipe dry without full submersion and do not leave them to drip dry. Check the date of manufacture printed on the label and use within 12 months from this date.
Delivery
All deliveries are signature required. Delivery charges are based on your order and will be calculated at checkout. Rural surcharge of $5.00 will apply. 

If you have a rural address please ensure you click the 'In Rural Area' button at checkout so the right freight charge is calculated. If you do not select the rural address option then your goods may be delayed until the correct charges have been paid. 

We also offer free click & collect from our warehouse in East Tamaki. These orders are usually ready in 4 hours.
| Location | Normal Delivery Time | Rural Delivery |
| --- | --- | --- |
| Auckland (NZ) | 1 - 2 days | 3 -5 days |
| North Island (NZ) | 2 - 4 days | 4 -7 days |
| South Island (NZ) | 2 - 5 days | 4 - 8 days |
Product barcode: 09421905811514