Compostable cling wrap gets overhauled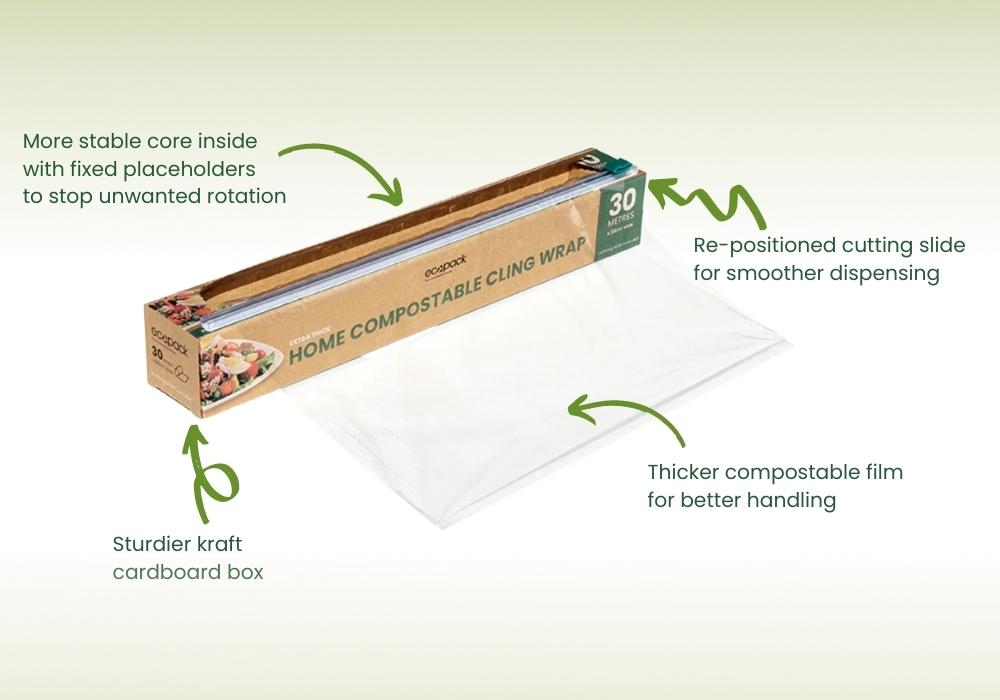 Home compostable cling wrap has always seemed like such a great idea. It keeps your leftovers and portions fresh just like traditional plastic wrap – but then you simply pop the cling film into your compost along with any food scraps after use. Great in concept…but it's been a notoriously hard product to get right.
We took our time as we saw competitors rush to market with products that didn't work well enough for our liking. The film wasn't sticky enough, or had to be provided as perforated sheets, or the boxes were too flimsy, or the cutting tool didn't work properly.
So, we played around in the product development stage for a long time. But even then, we must admit, we didn't 100% nail it first time. So, we've continued working around behind the scenes to perfect this product.
And now we're ready to introduce you to a completely overhauled compostable cling wrap!
What's changed?
The cling film is now slightly thicker. It's still fine enough compost down effectively but we've tweaked the microns so that it's better for dispensing, handling, and sticking.
We've upgraded the packaging. The box hasn't just had a facelift – we've introduced a more stable core inside, which is now fixed with placeholders so the roll can't rotate around in the box. And we've used heavier grade kraft cardboard to make the whole thing more robust.
The cutting slide has been repositioned. Like before, you open the box, grab the cutting slide out, peel off the tape covering, and fix it to the outside of the box. But those with a very keen eye may notice that you're now directed to position it in a spot that makes peeling the cling film out and cutting it off a bit smoother.
If you liked the previous version, you'll love this version more. And, even if you had a little trouble with the previous version, please don't write the concept of compostable cling wrap off; we urge you to try again with this one.
This new and improved cling wrap is available in regular size (30cm wide x 30m), perfect for everyday kitchen use, and the mega size (45cm wide x 300m), which is suitable for food service, commercial environments and office kitchens.
At the stage we have discontinued the mini size (20cm wide x 20m). Although it was great for keeping cut fruit and small portions fresh the smaller packaging format has made it difficult to perfect dispensing.
Until we can nail the redevelopment of compostable cling wrap mini we would prefer to put a product we can stand behind – like the new Ecopack Compostable Cling Wrap – on stores shelves and in your kitchen instead.