Avoiding convenience packaging and convenience calories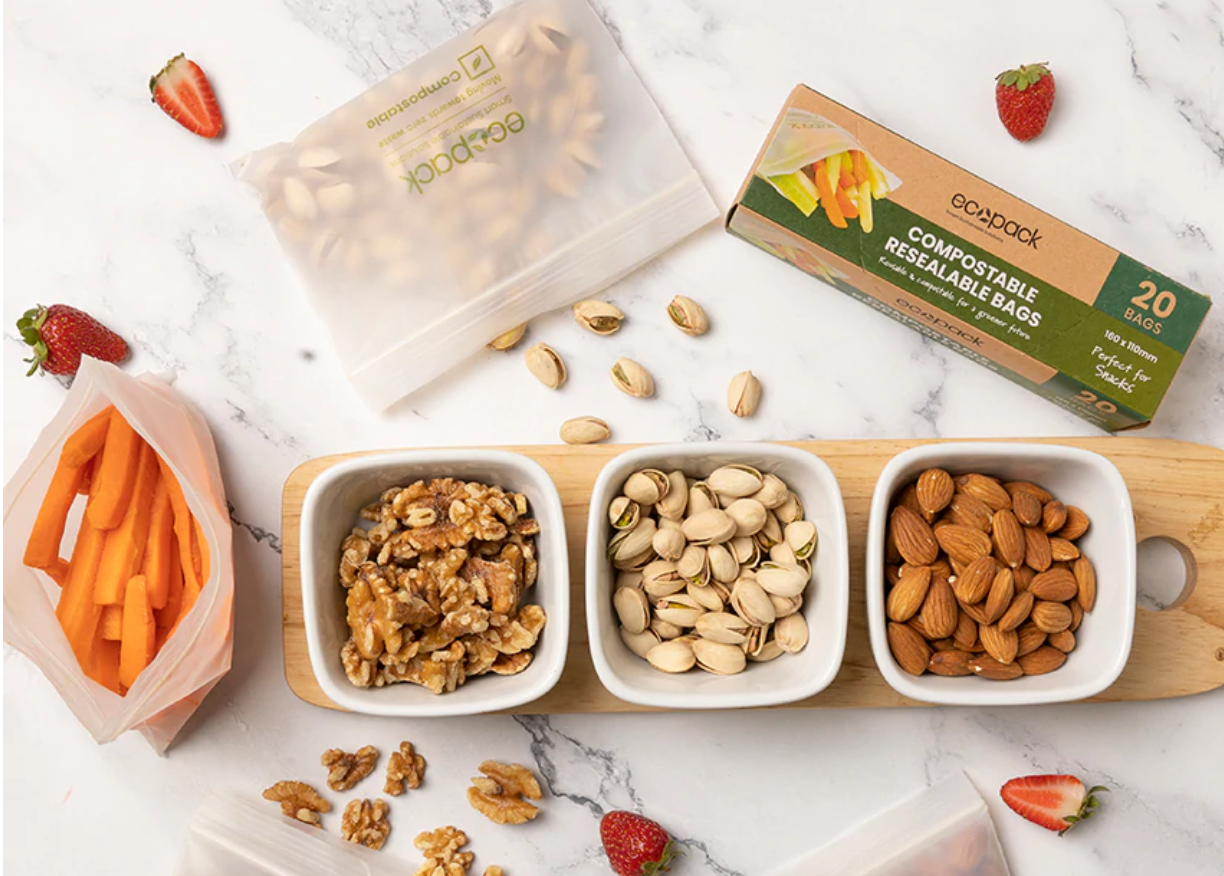 There are many benefits to meal prepping. Preparing food in advance can help you save money, reduce food wastage, avoid single-use food packaging, help with weight control and stress, and ensure you eat a balanced diet.
But, single-serve or pre-prepared portions don't need to equal single-use packaging. In fact - it's quite the opposite - meal prepping can enable you to consume healthy food in a more planet friendly fashion. It just takes a little forethought.
We're big believers in the reduce, reuse, recycle moto. So we recommend using reusable lunch boxes or containers first and foremost.
There's a massive variety of lunch boxes and bags on the market. And you can avoid plastic altogether if you want. Many supermarkets are now stocking bamboo, stainless steel and glass bento-style boxes, which are super convenient. And you can often get a reusable drink bottle to match.  
But we're also realists. And we know that some items need to be wrapped separately or require more flexible packaging. And that's why we've come up with more suitable alternatives your usual consumable staples such as Home Compostable Cling Wrap and Compostable Resealable Bags, which are available in snack, sandwich and storage sizes. 
Here are a few of our best food prep hacks for healthy food and healthy planet:
Re-use all packaging. Even our compostable "consumables" like cling wrap and resealable bags can be wiped out and re-used a couple of times. So long as they haven't come into contact with contaminants like raw chicken or anything too wet that's going to encourage premature degradation, go for it.
Freeze portions of cooked carbs. Portioning isn't just for meat. It's just as effective for fibre-rich carbohydrates such as brown rice, wholemeal pasta, quinoa and wholegrain breads.
Individually portion raw protein. You'll save a bit of money buying meat, fish or tofu in bulk but make sure you portion it out before freezing so that it's easy to defrost and use what you need, when you need.
Compostable products need to be composted to realise the environmental benefit. Sounds obvious right? So just make sure your compostable alternatives aren't treated like their traditional plastic counterparts at end-of-life. When you're done with your compostable packaging throw it on the compost heap along with any food scraps therewithin to return to the Earth.
Sunday is prepping day. Bake, cook and prep as much as you can in the weekend so that you can fly through the week without getting caught short and reverting to bad habits.
Try making multiple meals out of a single base. If you're cooking mince for spaghetti bolognese on night one, think about how else you can use that same mince in the coming days. Can you save a portion to make a lesagne on night two? Or put some in a wrap with some beans and vege for a lunch burrito tomorrow? Or maybe just cook a bulk lot and save a couple of frozen portions for a later date.
Make the most of leftovers. Avoid food waste by being realistic about what you'll consume and putting some forethought into tomorrow's lunch or dinner.
Keep a little healthy stash in your office draw. We're probably all guilty of grabbing something less that optimal when we're hungry and in a rush. So keep a little bag pf nuts and seeds, or a can of tuna and some crackers on hand for those occasions.
You'll find our collection of food prep packaging items here:
ecobags.co.nz/collections/food-prep