Why should we use compostable bin liners?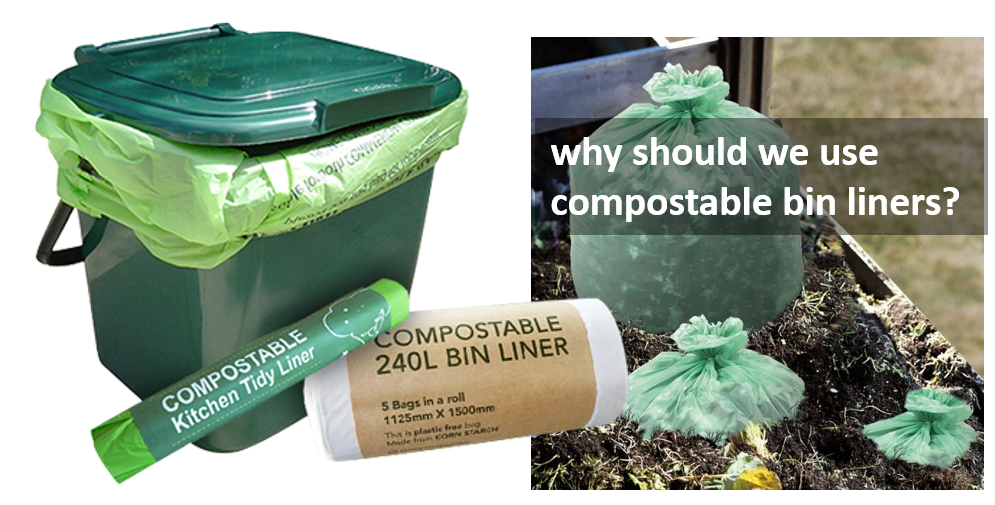 Why should we use compostable bin liners?
The goal here is to reduce landfill waste. We all like a clean and tidy house, especially when it comes to our rubbish – lining our bins with plastic bags has been the easiest and least messy option - but that is becoming a thing of the past! While plastic may be affordable and easy, this common practice is adding to our pollution problems. A compostable bin liner exposed to air, warmth and moisture will break down over 3-6 months unlike plastic which takes 100's of years when composted.
What can we do about it?
Get composting. The easiest solution for any household or business is to switch to compostable bin liners and get organic waste composting! Up to half of household waste is organic waste that can be composted. Ecopack has an entire range of sizes of compostable bin liners. Make the difference and shrink your waste immediately.
What are compostable bin liners made of?
Ecopack's range of compostable bin liners are designed to support people to manage their waste in a more eco-friendly manner than using traditional plastic bags and sending everything to landfill. This is a smarter and more sustainable choice. Ecopack compostable bin liner bags contain a natural starch-based polymer derived from corn plus PLA and PBAT to enhance compostability. And the printing is done with water based non-toxic inks too.
5 Easy steps to reduce your use of traditional plastic
1. Most people have adjusted and have already stopped accepting single-use plastic bags at the supermarket to transport your goods home. Out first piece of advise to reducing your plastic is to get a few fabric shopping bags and keep them in the car or somewhere handy to take with you shopping.
 2. Start using Ecopack compostable bin liners for organic household rubbish bins and start composting. See our full range here: https://ecobags.co.nz/?s=compostabl&post_type=product The bin liners are constructed with extra microns so they are strong and durable letting you store your rubbish or organic waste without leaking. Afterwards, the compostable bin liners degrade to carbon dioxide and water in moist conditions without leaving any harmful residues in the process. **** Please note that you can also buy Ecopack compostable bags at your local New World, Pak'n'Save and Fresh Choice. If they don't stock these already then put in a request to do so! 
3. Get composting. If you don't already have a compost system we highly recommend the simple composter from most Mitre 10 stores https://www.mitre10.co.nz/shop/jobmate-compost-tumbler-160-litre/p/269851 - you can even put your compostable bags in with organic waste and away they decompose! 
4. Composting is made easy with the Ecopack durable Compost Caddy - a tidy, reusable bin system that will ensure the odours and mess are kept clean, either line the caddy with a compostable bag or leave it without a liner - whatever you choose. It's easy and enjoyable to carry out to the outdoor compost bin. Find the product here: https://ecobags.co.nz/product/caddy/ the caddy doesn't take up much room so it can be kept under the kitchen sink or on your bench top to catch all the food waste and veggie prep. 
5. Let's get worm farming! http://www.hungrybin.co.nz/ as it will give you the fertiliser as a liquid, which helps your veggie garden flourish. The hungry bin eats waste! You can even put in the compostable bags! Available at some Mitre 10 stores https://www.mitre10.co.nz/shop/hungry-bin-worm-farm-180-litre/p/273690