Bring your own bag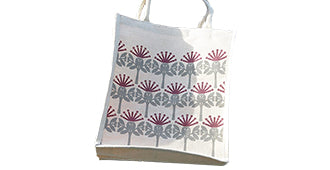 In America alone, according to the EPA, some 32 million tons of solid waste is plastic. The vast majority of this waste comes directly from plastic bags.
On a global scale, some five billion to one trillion plastic bags are used around the world every year.
In some cities and countries, plastic bags have even been outlawed. While this is an incredible step towards reducing landfill waste, it has yet to happen on a global scale. It's truly up to us to bring and use reusable bags on a regular basis.
Let's take a closer look at what options are available for bags that are good for the environment.
Reusable Bag Options
Thanks to greater awareness surrounding landfills and the toxicity of plastic products, more people are looking into getting their own reusable bag. Some simply reuse plastic bags they get from the grocery store, but that only prolongs their life before they inevitably end up in the landfill.
Fortunately, there are several other options for reusable bags. One is Jute bags. Jute is a vegetable fiber primarily used to create cloth that wraps bales of raw cotton or to make sacks. On a more complex level, chair coverings, carpets and area rugs are also created out of this fiber. It is used to make reusable bags because it eventually breaks down and is completely eco-friendly.
Another option is cotton bags. Cotton bags are easy to clean and are strong enough to hold a good deal of weight. They are also extremely eco-friendly. As are compostable bags. Made from plant-based materials, compostable bags are surprisingly strong and durable.
Personal Responsibility
It is up to each one of us to make the decision to choose bags that are reusable. With so many options available, from cotton bags, jute bags, to compostable bags and beyond there is little excuse for not investing in a few eco-friendly bags to take with you when you shop.
What type of bags do you use? Let us know in the comments below!