Two exciting new eco products have just landed!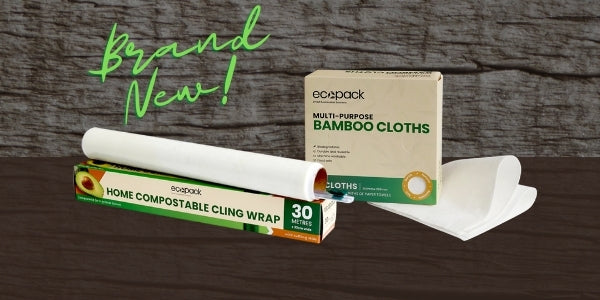 We're proud to announce the arrival two great new products:
Ecopack Compostable Cling Wrap, and
Ecopack Multi-Purpose Bamboo Cloths
Both products are available now from our online store and are starting to filter through to good supermarkets (feel free to suggest them to your local retailer!).
Compostable Cling Wrap
Our customers have been calling out for compostable cling wrap for some time – but the challenge has been in getting the product right! After considerable experimentation we're proud to offer a product that performs similarly to traditional plastic cling film, except that it's a bit "stickier", so each box includes cutting slide to make it easy to use, and of course it has the advantage of being 100% home compostable.
Ecopack cling wrap is food and freezer safe and is certified for home composting by Din Certco Home & Garden Composting 9P0020. > Shop Now
Multi-Purpose Bamboo Cloths
These super absorbent eco cloths are soft and luxurious. Use them over and over again in the kitchen (they're food safe) or for general cleaning. They're perfect for cleaning your glasses or mirrors, and they make brilliantly soft reusable baby wipes too. A true all-rounder!
Your 10 cloths come packaged in a dispenser box for easy storage. They stand up to being put through the wash multiple times and are designed to replace approximately five months of paper towels. > Shop Now