New pet grooming wipes - right in time for winter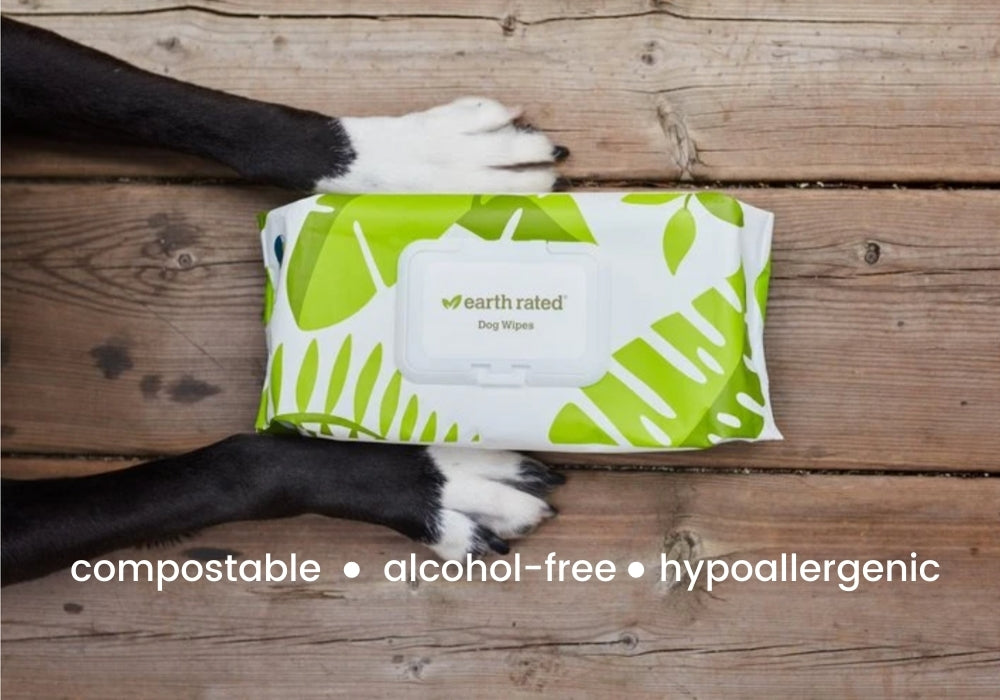 It's getting colder and wetter so, if you're a pet owner, you may be starting to see muddy paw prints walk through your house. The doggy parents at Earth Rated had this problem too so they set about developing dog wipes.
But then the idea grew – wouldn't it be great to create wipes that not only clean up after pets and swab their paws – but that can also be confidently used on the body of your pooch? Yes! And so Earth Rated's new Compostable Pet Wipes were born.
To date, these are the only compostable pet wipes on the market (even baby and makeup wipes are usually not compostable). We've checked the certifications and they're all there – the wipes meet ASTM D6400-12 standards in North America and are also certified internationally by TUV Austria for Home and Industrial Composting.  
Bath time can be stressful for dogs.  But a quick once-over with these brilliantly thick and gentle wipes is the perfect solution for in between baths.
The wipes are similar to baby wipes (and made in a human graded factory to boot!). Water makes up for more than 93% of the formulation along with a plant-based glycerin to maintain the moisture. They're alcohol-free meaning they won't dry out your pet's skin (or yours!) and have undergone hypoallergenic testing.
Many of us have dogs with itchy, irritable skin so these wipes have been specially formulated to be gentle enough for all pets. They contain natural ingredients like chamomile, shea butter and aloe. These ultra-moist and quilted wipes are so safe and soothing you'll be happy to use them on yourself!
Earth Rated wipes don't contain any antibacterial ingredients as those types of ingredients should never come in contact with pets. They're designed to be super gentle for use on body, bum and paws but are not recommended to use around the sensitive areas of the eyes and inside the ears (just as you wouldn't do with baby or makeup wipes) however, they can be used outside the ears.
So now you can go forth and revel in your muddy dog park adventure or hiking in the rain without concern for the clean-up thereafter. Simply keep a pack handy in the car and you'll easily keep your vehicle tidier. And keep a pack by your door for a quick gentle clean before your pooch is permitted entry.
Your questions answered:
Are your wipes flushable?
No. They are compostable though, so simply toss in the compost when you're done.
Can I use these wipes on my cat?
Yes! We suggest using the unscented wipes on cats.
What are your wipes made with?
Our wipes are sourced from VEOCELTM viscose fibers which are FSC-certified and offer a sustainable solution to cleaning up after our pets.
Can your wipes be used on allergy-prone dogs?
Our wipes have undergone hypoallergenic testing because, just like many pet parents, our Earth Rated team members have dogs with skin issues and it was important that our formula, comprised
of chamomile, shea butter and aloe, was gentle enough for all dogs.
Are your wipes cruelty-free?
Yes, we never test on animals! They are also plant-based and vegan.